HOW TO QUALIFY FOR UTMB
Below we're going to talk about one of the most exciting and challenging events in the trail running world – UTMB! But more importantly, we're going to talk about how running our 100km ultra-marathons can help you on your journey to a UTMB start line.
What is UTMB?
First things first, what is UTMB? Well, for those of you who don't know, UTMB stands for Ultra-Trail du Mont-Blanc, and it's an incredible race that takes place in the French, Swiss, and Italian Alps. The race covers over 100 miles and has a whopping 30,000 feet of elevation gain. This epic event attracts some of the world's top trail runners. It is considered one of the toughest ultra-marathons out there. So, if you're looking for a real challenge, UTMB is the way to go. It's not for the faint of heart, but it's a bucket-list race for many runners. The UTMB event ALSO features several other races that take place over the course of a weekend, including the UTMB CCC (Courmayeur/Champex/Chamonix)(100km) and UTMB OCC (Orsieres-Champex-Chamonix)(55km). These other races are not as prestigious as the UTMB main race, but a big part of the appeal and often serve as stepping stones for people prior to attempting the UTMB.
How to qualify and how can our 100km Packages can help you
The key point here is that you cannot qualify for UTMB with index races. Index races give you points that contribute to your personal UTMB index. Theoretically, the higher someone's UTMB index, the better their running performance.
Qualification for UTMB comes by acquiring 'Running Stones', which you can only get by completing specific UTMB World Series Events. These are usually called 'X Race by UTMB' – the only one in the UK is Ultra Trail Snowdonia by UTMB.
If you have a UTMB index then you can enter the UTMB World Series Events and therefore have a chance of earning Running Stones.
1 Running Stone = 1 Entry into the lottery to participate in any of the UTMB World Series Events. You choose which ballot you enter, if you have the qualifying criteria. The more Running Stones you have, the more entries into the ballot you get. You receive a different number of stones depending on the distance and race.
Our 100km and 50km events provide runners with UTMB Index points and racing experience in preparation for entering a UTMB World Series Event to try and secure Running Stones.
Upon completion of our 100km non-stop races below, our runners are able to enter the ballot for the 50km, 100km, and 100M UTMB Races, and the UTMB main race (only if they already have Running Stones). Upon completion of our 50km races, our runners are able to enter the ballot for the 50km and below UTMB races only.

You can start your registration for the UTMB®, CCC®, OCC on the UTMB website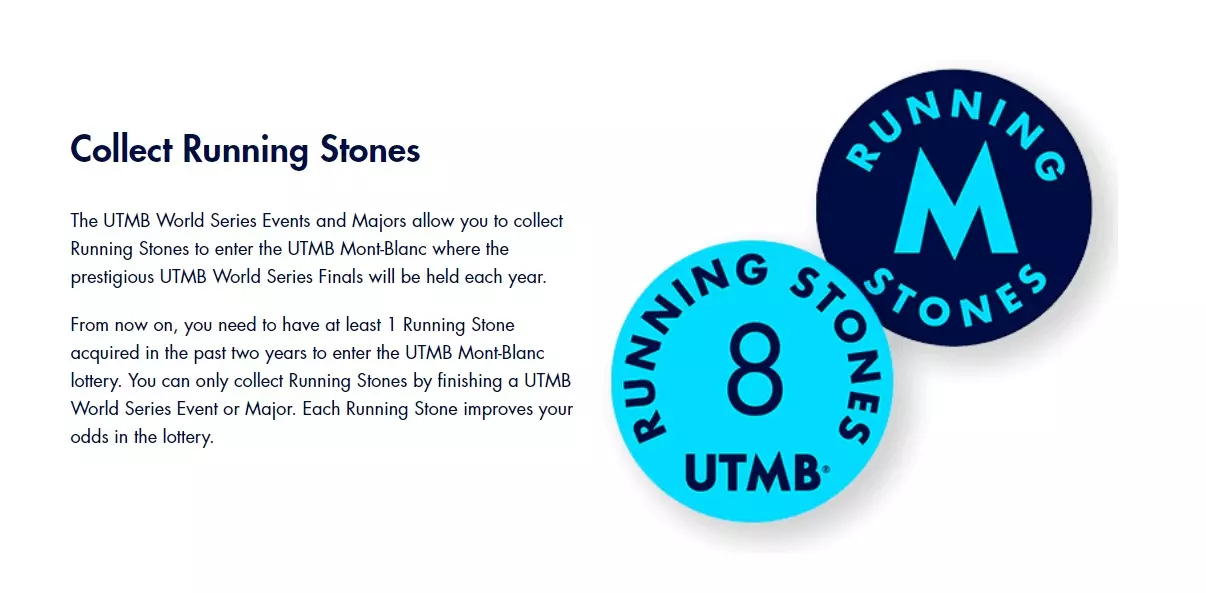 What does this all mean?
So why would anyone want to attempt such a feat? For many runners, the races at the UTMB World Series Finals represent the ultimate challenge, testing their physical and mental limits like no other race. The stunning scenery of the Mont-Blanc massif in the French, Swiss, and Italian Alps only adds to the allure of the race. Moreover, completing the UTMB is a badge of honour in the ultrarunning community, earning runners respect and recognition for their incredible achievements. For some, it's simply about pushing themselves to be the best they can be and achieving a personal goal that they once thought was impossible.