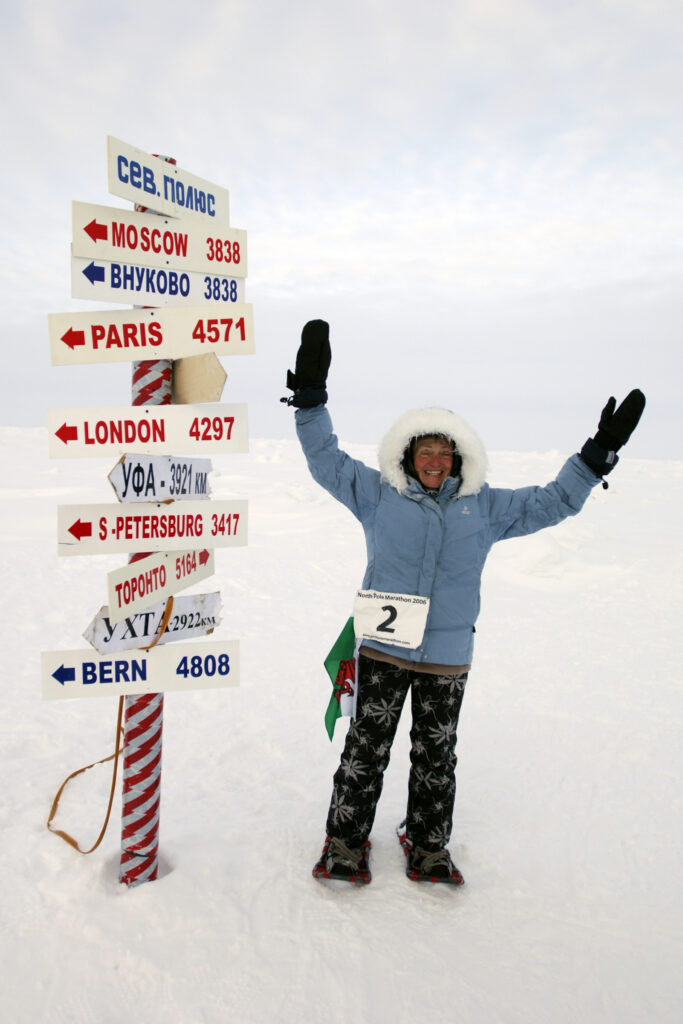 ---
"I now had the running bug."
In need of some running motivation to get your 2022 Trail Series training underway? This short Q&A with one of our previous trail series runners, Kenwynne Barber, is sure to provide some serious motivation for you as we explore more of her incredible running journey.
As well as joining us on multiple of the Threshold Trail Series Events and hoping to complete them all in the near future, Kenwynne has completed a marathon on every continent and the North Pole and taken part in many desert Ultras.
When and how did you get in to Marathon running?
With my 50th birthday approaching, I thought to myself, how can I mark this big day? So, as one does, I entered the London Marathon. I never win anything, so I knew I was safe to send an entry form off. I wasn't a runner, not even able to run for a bus, so this was madness. However, I got selected and the rest is history. I followed a 'just about get you around plan' in a Running Magazine. The big day came, and I loved it–rubbish at it–but I finished it. I now had the Running bug.
Which terrain was more difficult for running: The North Pole or the Desert?
Both terrains displayed their challenges, so it is hard to say which is more difficult than the other. The North Pole was like walking on top of a spiked Christmas cake, but what a wonderful experience–not many people will ever have (literally) been "on top of the World". Desert running terrain is obviously all on sand which is extremely hard work and hot.
What is your favourite memory from your time completing marathons?
My best race memories have always been with Zitoway Sports Italy. The main one for them is Tunisia but my favourite race ever is Namibia. This included the highest sand dune in the World- I can't tell you how hard this was! All in the heat of the sun! However, my favourite memories come from the added adventures of desert racing, including: camping, watching the incredible sunsets and sunrises and meeting amazing people from countries all over the world. These things tend to make all the difficulties experienced on the race worth it.
What was your favourite continent to complete a marathon in?
My favourite continent that I have completed a marathon on has to be Africa. As well as incredible scenery and terrain, we have the added bonus of seeing an abundance of wild life whilst completing the races.
Tell us about one of your low points.
None. I love the people I meet on every race, I love the place around me and above all, I love the adventure.
Can you give us a piece of advice for any runners new to ultra-marathons who might be apprehensive to take it on?
For new runners, NEVER look at the full picture. Just cross the start line, get to the 1st pit stop, have something to eat and drink, and move on to the next pit stop. Then start to count DOWN all the way to the wonderful finish line and focus your thoughts on the welcome you will get from all of your loved ones. At 81 years, I am not looking to be any faster, I just want to finish and most importantly, ENJOY IT!
What is next for your marathon adventures?
My next marathon adventures will (hopefully) continue next year. I am so excited to be entering Race to the Stones, Race to the Castle and Race to the King (again) for 2022. I absolutely love it.
*Takeaway message*
Having had the pleasure of speaking to Kenwynne about her incredible running stories, I have highlighted a key takeaway message for everyone interested in either taking up marathon running or continuing with their journey. Kenwynne was approaching her 50th birthday when she signed up to her first ever marathon. She is now 81, still completing marathons and most importantly, still enjoying them. This is your sign that it is NEVER too late to start marathon running and exploring the world on foot.