Hazel's Running Journey
November Update:
"Well, I guess this is happening…
Hi! I'm Hazel, one of the lucky winners of the Threshold's awesome competition to run the 50km Race to the King and 100km Race to the Stones 2023. I started out my running journey on the roads, as many people do. After signing up to a marathon to raise money for charity and whilst it was a fantastic experience, I couldn't help but wonder how it would feel to push myself to go even further and longer. I thought I would put my skills as a medical student to good use. I volunteered as a medic for a few ultra-marathons earlier this year to check out the scene. It's safe to say I was hooked!
The best thing for me, was the overwhelming sense of community within the ultra/ trail running sphere. It was something that really drew me in, and I left each event utterly inspired by the runners. I had new friends for life. The recent Threshold x Runna event at Box Hill really epitomised this for me. Afterwards, we set off for a 13km chatty (and very hilly) jog around the beautiful Surrey Hills and were treated to a lovely brunch at a local pub at the end. By the end of the morning, a group of strangers had come together and bonded over their shared passion for running (and brunch!!). It was so lovely to be a part of!
Later that day, I headed to ProFeet in London for a gait analysis and fitting of some insoles to help me stay injury free as training gets underway (fingers crossed!). I met Morgan, who used 3D gait analysis to teach me about the efficiency of my running and where I could make improvements. This would be for both myself and with the help of the right shoes and insoles. The data was fascinating, and I saw immediate improvements thanks to Morgan's tips and shoe choice!
Having had to take a bit of time away from running in the past few months, I am now slowly building the mileage back up ready to get into full ultra-training soon. I think the biggest challenges for me are going to be to stay injury free with the large training volume. I also need to manage all my mileage around revising and working towards my medical finals over the next 6 months. Having said that, I truly do believe that ultra-running can be for everyone. I hope to prove this both to myself and to others as I tackle the challenge alongside my busy schedule.
As a fairly new runner, I am sure you can imagine that the thought of running 100km is slightly daunting. However, I can't wait for the friendships that I will make along the way. I will get a massive sense of achievement from crossing that finish line. For now, it's time for a bit of training to get underway!"
Hazel's running journey – The Runna Box Park event:

Hazel's running journey – ProFeet Analysis check: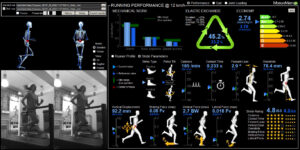 December Update
Month 2 on the road to 100km has been a little less plain sailing than the first. We kicked the month off by meeting Ben, my new coach with Runna, and set out a plan to work me up to begin prepping for the ultras come the new year. Ben was absolutely fantastic and got to know me and my running history to help me set goals and get a programme together for the next couple of months.
It was so nice to finally have some structure back in to my training- something I've definitely been missing since I finished my marathon prep back in May. I find that I do best when I've got a routine, and having an expert set me up with a schedule gave me the confidence that my training was getting me where I needed to be. With a big exam and the festive season, it can feel quite overwhelming fitting everything in but for me, having a non-negotiable hour or two set aside for training in the day seems to help me be way more productive and focused for the rest of the day.
This month has brought the battle of some serious weather to contend with- not something we're necessarily very used to or prepared for in the UK! Having seen running friends abroad getting out there in sun-zero temperatures and meters of snow, I felt I had no excuse but to get out there and give it a go too. There's something exhilarating about getting out in the freezing cold and taking in the beautiful snow dusted trails, working for your warmth on the run. Although it was hard to leave a warm house for a cold and icy jog, I think these might just have been some of my favourite runs to date! A special thank you to Adidas Terrex for kitting me out with some amazing cold weather trail gear to keep warm out there and loving every step of the run!
One thing I do struggle with though, is taking note when niggles crop up and not just training through them (because that always ends well, right?). So going into this training block with a little hamstring tendon injury and ignoring it only ended up making it worse… do your rehab, runners!! Having been to see my physio, I've been benched from running for a short while to let everything settle down. A build up for any event will never go 100% to plan, and that is definitely something that a lot of us will learn the hard way.
So for a week or two, my training is going to be looking a little different than expected- a few trips back to the physio, some swimming and lots of rehab! As much as it pains me not to be able to get out there and run, I am grateful that my niggle has cropped up so early in the journey- if I get on top of this now and work on my imbalances and weaknesses, I will only come back a stronger runner!
So I am fast becoming an expert glute-bridger, and after enjoying a bit of extra time to spend with friends and family over the festive season, I'll be ready to hit it hard come the new year.
January Update
I can't believe I am already 3 months into my journey to 100K!
After suffering a few niggles last month, I decided to drop the idea of running a half marathon in the early New Year and focus on rehabbing my hamstring and just running as much as was sensible for where I was at. Sometimes the hardest decision is to put the ego aside and realise that fast running just isn't on the cards for the time being, and I know myself- if I was in a race, there's no way I wouldn't succumb to the atmosphere and adrenaline and push for a PB!
Instead, I focused on my strength training and just enjoying my runs over the festive season. And what a month of running it has been! It can be hard to stick to your normal running schedule over the holidays, but this year I realised that that is absolutely ok. I was fortunate enough to be travelling a fair bit in December and taking the pressure off myself to stick to a training schedule in that time gave me the freedom to enjoy using my runs to explore beautiful new places (Barolo, Italy- beautiful but darn hilly!!) and to relax and spend time with my extended family.
Working at a lighter intensity and focusing on recovery also seems to have done wonders for my body- I am now absolutely ready and raring to go for the next phase of training! After a chat with Ben, my Runna coach, I have started on a new programme to build me up to hit the ground running when the 16 week pre-100K plan kicks off. Meeting the Threshold Series team at the National Running Show and hearing some inspiring stories from the likes of Eilish McColgan and Steph Davis was the perfect start to my 2023 running year! A group run in collaboration with Threshold X Runna was such a fantastic reminder of the community surrounding our sport as runners from all over the country came to enjoy a jog around Birmingham.
I can't wait to see what the next 6 months have to offer me and my running. For now, it's time to get some hard work under the belt.
March Update
Another month of training has somehow already come and gone- it really has started to fly by. This month has been the first where I have started to feel like myself again with my running. Having had a good 6 months off any structured training before starting this journey, it has taken a while to find my feet with bringing speed work and long runs back into the mix around a very full-on time in my course.
But now that I am officially on the Runna 100km training plan, I feel as though I've properly got into the swing of things with the training programme. One thing I definitely need to work on, however, is pacing… Coming from a background of being a sprint swimmer I am well aware that I tend to come out of the blocks all guns blazing. Rather unsurprisingly, I really can't see that strategy panning out well for me for a 100km event! So, for the next 3 and a half months until race day (eek!!) I am definitely going to be focusing on getting those easy, low heart rate miles under the belt.
The best way I have found to reign the pace in is running with friends and having a good chat along the way. The only downside I have ever found with following an individual training plan is that training can feel quite lonely if you complete it all alone, so I am making a real effort recently to track down all friends who will be up for a catch up on the run (and of course over post-run coffee and cake!). Mixing up the weekend runs by joining some of the Threshold and Runna events has also been a great way to meet like-minded people and explore some awesome new trails around the country. Who knew there were so many amazing routes that are so accessible?
The 2023 racing season is well and truly underway at this point, and I am feeling incredibly inspired by all the amazing results from the events that have been going on since the New Year. From Park Run PBs to the success at the recent European Athletics champs, it has been a great time to be involved in the sport. As the evenings get lighter and the long runs get longer, I am definitely looking forward to the spring training that were all headed in to- bring on the classic runner's shocking t-shirt and watch tan lines.