Stay tuned for monthly updates
Need some Ultra running guidance ? Take a read below as Hannah takes on her first 100km!
November Update:
Training has officially (slowly) begun! I've started with a 16 week marathon training plan, after a discussion with Ben at Runna. We're going to start with 3 runs a week and see how I get on. This week I ran a long run,  18km trail around Leigh Woods, Bristol. I've also done a shorter tempo run and an easy run following the guidance of the Runna app.
So far the app is great! I'm loving the different types of runs and the flexibility. Especially with the run up to Christmas and social calendar, having flexibility for when I'm able to do the runs is crucial for success. Also, I'm going to start to incorporate 1 session per week of strength training, which i'm really looking forward to. This will enable me to build up my mileage per week to get to marathon distance.
Last week, I attended the Runna event Box Hill train run, a 13km loop around Box hill, Surrey, followed by a Brunch after. It was so much fun (pictures attached) and it was great to meet so many new faces and likeminded runners! I was a bit nervous starting off incase I couldn't keep up but it was genuinely a really fun, chatty jog round some beautiful countryside. We were also split into three different groups so you could choose whichever pace you felt comfortable with. Looking forward to the next event – will definitely be signing up!
I also attended a Profeet analysis in London, where I had full 3D scans of my running technique and gait analysis and then a debrief on how to improve areas and conserve energy on those longer runs. This ended with some custom made insoles for my running shoes. It was really insightful and I definitely left with some tricks and practices to improve my running and prevent injury.
All in all a good starting month training for the Ultra. Hoping to continue at this pace!
Hannah at the Runna Box Hill Event: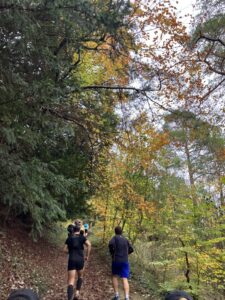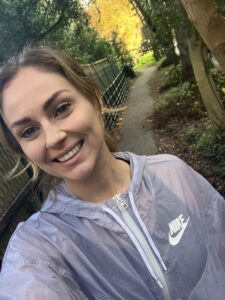 January Update:
I've been following the Runna marathon training plan and so far so good. I'm loving the different variations in running (tempo/intervals/longs runs), it really mixes it up and keeps things interesting. I took part in a 5k a day in December as part of our office health social which kept me busy for a couply of weeks, but I had a bit of a lull in the run up to Christmas due to a nasty chest infection – luckily I'm feeling back to full healthy and ability.
I'm keen to get some longer runs in the diary to keep up the pace (and ultimately get to that ultra marathon distance!). I've booked in to the Beast of the Blacks in March which is a trial run up the black mountains in Wales, can't wait. Looking forward to getting some Threshold sports/Runna events booked in as well!
Take a look at some of the views Hannah has seen on her runs: