Last year, one of our amazing Race to the Stones participants, Tiarnan Kelly, took on the ultra-marathon trail challenge. This was in support of our veterans. Along with many others in support of the Help for Heroes charity, he chose this event to fundraise and raise awareness for those who put their lives on the line for us. Read on to find out more about Tiarnan's story.

(1) Do you have a connection to the Help for Heroes charity?
I have several family members, as well as colleagues and friends who have, or are currently serving in the military – some have suffered life long injury as a result of their service. This is my way of showing gratitude and respect to these people and their sacrifices.  
(2) What was your motivation to raise money for our veterans and their families?
I have seen some of the work Help for Heroes have done over many years and to support this in what little way I could really motivated me. Whilst running the race, I asked myself many times "what on earth am I doing here"! I only had to think about the people this money could help, as well as all of my military friends and family. This really motivated me. 
(3) How did you raise over £600?
I raised the money mostly through social media and reaching out to some of my contacts. 
Click here to see the Just Giving top fundraising tips and ideas.
(4) Tell us a little bit about how you found the race. Was it challenging? Would you do this again?
It was seriously challenging. Not for the faint hearted – I really hated it at times! But… I would do it again in a heartbeat!! This kind of running really teaches you a lot about yourself and really pushes your physical and mental limits. It makes a marathon feel short!
(5) What was your favourite part of the whole process?
Nothing beats the feeling of crossing the finish line. When the many months and hundreds of miles of training pay off and you reach your goal. 

Knowing also that I have completed my end of the bargain and the money I have raised can without question, be handed to Help for Heroes, is really fulfilling. 
Click here to learn more about Help for Heroes and the amazing work they do.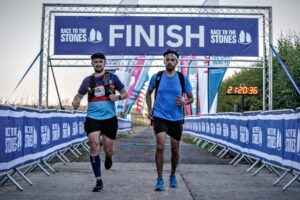 From year to year, we have hundreds of people choose to take on the Threshold Trail events to raise money for a charity close to their hearts. Join the hundreds and do something memorable in 2023 for a charity in need of your support.
Did you know… you get 79% off your registration fee when you sign up for charity!
Follow the links below if you would like to fundraise on our events:
Race to the Stones Charity Entry